Have you noticed how good many schools have become at communicating with parents? I get regular text messages about school events, my daughters' homework, as well as reminders about term dates.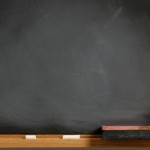 They're also good at using 'real' message boards (as opposed to digital ones) positioned at entrances to remind parents about events or simply to wish everyone a Happy New Year. Nice eh? It makes me smile anyway.
Many companies could do a lot worse than take a leaf out of a school's exercise book when it comes to communicating with their customers and employees. Letter home anyone?